2020 Toyota Supra Specs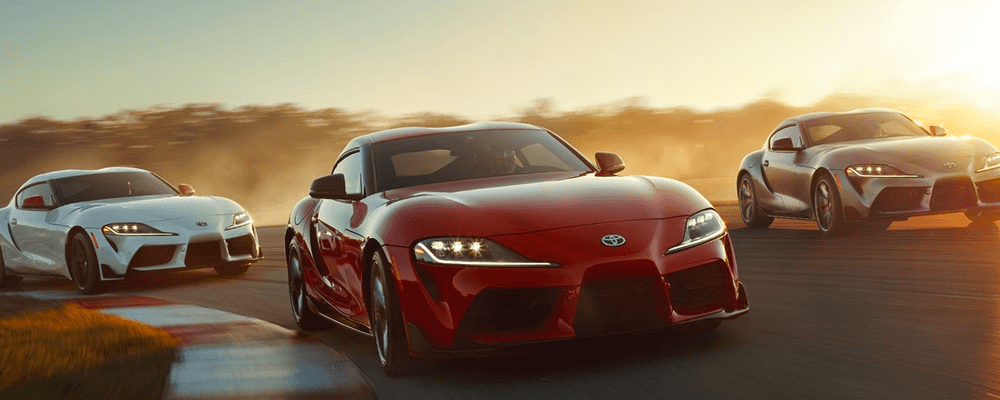 The 2020 Toyota Supra specs set this car apart from other performance cars in its class. The new Supra is based on the 2014 FT-1 concept car but has been stripped down, streamlined, and sped up for the racetrack. It won't be long until this vehicle makes its way to the streets of Lincolnton and Hickory, so don't wait to find out what it can do.
Toyota Supra Horsepower and Engine Specs
Every 2020 Supra will be engineered with a 3.0-liter inline six-cylinder engine and a twin-scroll turbocharger. With this equipment, it has no trouble putting up impressive numbers; Toyota has tested it to find that it produces 335 hp and 365 lb-ft of torque! It's able to go from 0-60 in a lightning-fast 4.1 seconds, and in terms of raw speed, it leaves nothing to be desired. Because this car offers so much power, the engineers at Toyota have had to electronically limit its top speed to a maximum of 155 miles per hour.
Of course, the Supra engine isn't the only feature that helps this car excel. Every model receives an 8-speed automatic transmission, paddle shifters, an active differential, two-setting adaptive variable suspension, and Michelin Pilot Super Sport tires. A rear-wheel drive drivetrain, a 50:50 front:rear weight distribution, and an extra-wide set of back tires let the Supra tear up the racetrack.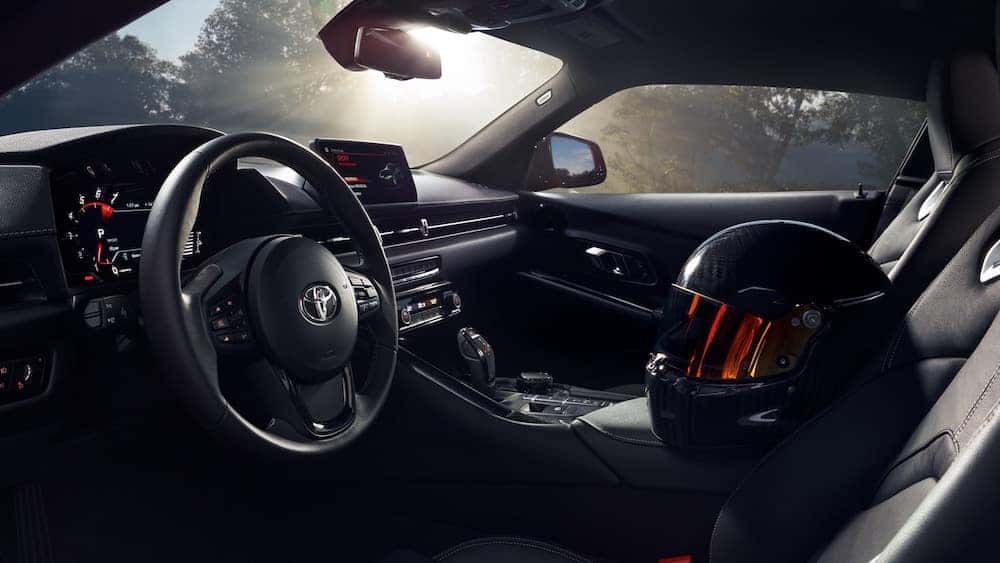 2020 Toyota Supra Dimensions
When it comes to vehicle dimensions, it doesn't take much to generate big differences at high speeds. The engineers at Toyota have covered all their bases, and every inch of this car has been designed with performance in mind. Take a look at its dimensions:
Wheelbase: 97.2 inches
Track Width Front: 62.8 inches
Track Width Rear: 62.6 inches
Overall Width: 73.0 inches
Overall Height: 50.9 inches
Overall Length: 172.5 inches
Curb Weight: 3,397 pounds
While the Supra wheelbase plays an important role in generating stability, it's not the only exterior design feature that deserves a mention. An arching rear integrated spoiler is standard right from the start, and Supra models also feature a distinctive double-bubble roof. The latter allows this car to cut through the air with ease.
Don't Miss the 2020 Toyota Supra at Toyota of Gastonia
Want to learn more about the 2020 Supra specs? Contact Toyota of Gastonia near Charlotte and Hickory with any questions you might have, and we'll get back to you as soon as you can. We also have the latest information on the new 2020 Toyota Corolla interior! Want to see what Toyota is capable of today? Try taking one of our new vehicles for a test drive.
Contact Us About the 2020 Supra
More From Toyota of Gastonia
A water leak coming from your car usually is from condensation in the air conditioning system. When it's activated, it can cause a small amount of water to form into puddles at the rear of the engine. If you're finding water near your tailpipe, that's usually condensation from the exhaust. It will go away after…

Variety and expert craftsmanship are two staples that you can expect at the Muddy River Distillery. The facility has already achieved local fame near Gastonia, Charlotte, and Lincolnton, thanks to the quality of their various drinks. Rum is their signature offering, and it comes in a number of variations and flavors. Visiting the distillery itself…

Whether you're out in town shopping or looking for a place to meet up for a meal with friends, add The String Bean to the top of your list of spots to check out! Their menu, which features a range of options, has some amazing original and fresh creations you will enjoy while sitting outside…