Take a Sip Out of The Wandering Cup

---
For most people, there is nothing quite like that first cup of coffee in the morning to get you going. If you're looking for your next favorite coffee joint, it needs to offer a variety of flavors. What if it also has the added scenery of local artists' paintings and drawings that you could buy for your home or office? That sounds like a spot suited to your tastes.
The Wandering Cup is that special spot! Located in Belmont, NC, it's sure to entice the art aficionados who also appreciate well-crafted coffee.
An Artist's Alcove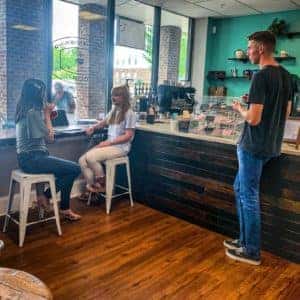 Something fascinating about The Wandering Cup is that it was created in the middle of a global pandemic. While on a date night, two people came into an art studio to check out some of the local artwork, and while chatting with other people who had the same appreciation for hometown talent, they decided to form a coffeehouse for people who appreciate both.
It's become a haven for folks who can create beautiful works of art, sell their pieces, and relax while enjoying the lovely, welcoming ambiance of the coffee shop. It's the perfect spot to stop in for any weary traveler who is in need of a cup of joe and would like to see what some of the fine artists in North Carolina are creating!
Coffee, Tea, Everything In Between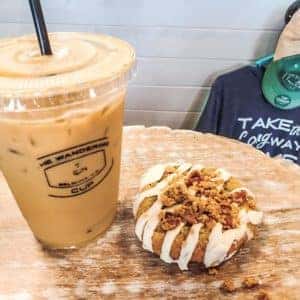 When arriving at The Wandering Cup for the first time, patrons will be greeted with the wafting scents of their superb drinks, food, and maybe even a hint of the artist's easel. Whether you need to get an early start, you're in need of something to boost your afternoon, or you're gearing up for the evening shift, The Wandering Cup has you covered.
This is a stellar group of baristas who are capable of handling your order with love and care and can also recommend some art pieces that you can purchase and take home. Their coffee beans are ground to perfection, with a fully trained staff of baristas available to accommodate your drink requests. Whether you're in the mood for a cappuccino, cortado, or you're looking for a flavored latte, they've got you covered. And don't skip out on their tea selections, including their shaken iced teas.
Their superfood lattes are a big favorite, where you can get a delightful drink while also choosing a healthier option for yourself. Plus, whether you're in there just for a visit, or you have some work to do, you can set up a nice space for yourself where you can finish up some work tasks, read a book, look over some beautiful paintings, and visit with other patrons.
If you're looking to pair your beverage with a tasty treat, you're in luck. They have a culinary pastry artist named Hannah who has spent her adult life working in some of the finest restaurants and is now their number one chef for muffins, cookies, and other delectable pastry treats. You might even find yourself bringing home an extra cookie for later!
---
Get Creative at The Wandering Cup!
To find out more about The Wandering Cup and the artists they debut, check out their Facebook page or Instagram, and