Toyota Hybrids & FCV
2016 Camry Hybrid
The 2016 Camry Hybrid builds upon the great features on the standard version and adds an efficient hybrid powertrain that delivers up to 41 mpg combined.
2016 Avalon Hybrid
Fill up the tank on the 2016 Toyota Avalon Hybrid and go for a ride. You'll be able to drive nearly 700 miles before you need to fill up again.
2016 RAV4 Hybrid
The 2016 Toyota RAV4 Hybrid combines all-wheel drive handling and hybrid fuel efficiency to create a perfect compact crossover.
2016 Highlander Hybrid
For big families who want excellent fuel efficiency, the 2016 Toyota Highlander Hybrid delivers with up to 28 mpg combined.
2016 Prius
When you choose the 2016 Toyota Prius, you are getting not only an efficient hybrid, but a car that offers a quiet ride, generous cargo space, and great handling.
2016 Prius c
For drivers who want excellent fuel efficiency, but have a tight budget, the 2016 Toyota Prius c is a great option. It is the most affordable member of the Prius family and will give drivers a spacious interior and a nimble driving demeanor.
2016 Prius v
The 2016 Toyota Prius v is the largest member of the Prius family, which makes this hybrid a great choice for families. It offers excellent fuel efficiency combined with lots of storage spacious and a quiet ride.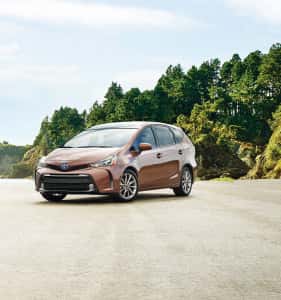 2016 Mirai
With the 2016 Toyota Mirai you are getting a glimpse of the future. This hydrogen-powered car is currently only available in California, but is an exciting development in the automotive world.