Why is My Car Leaking Water?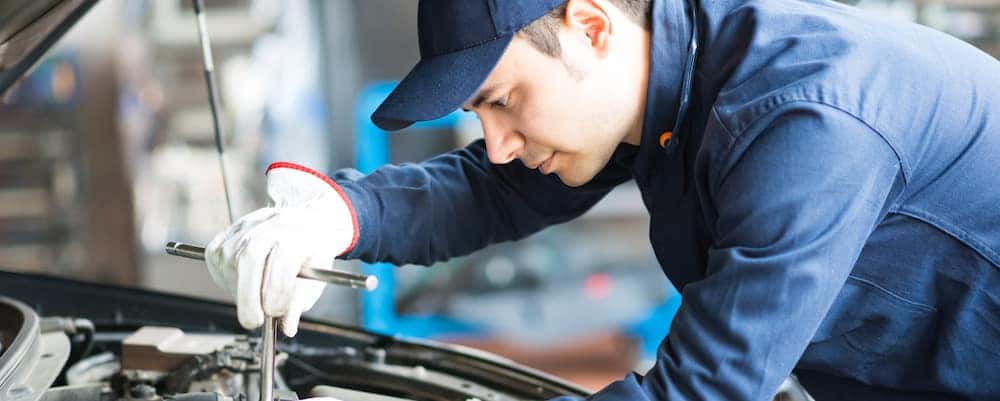 A water leak coming from your car usually is from condensation in the air conditioning system. When it's activated, it can cause a small amount of water to form into puddles at the rear of the engine. If you're finding water near your tailpipe, that's usually condensation from the exhaust. It will go away after the car warms up sufficiently. The only serious leaks you'll need to track down come from non-clear fluids. If you're concerned about a leak, be sure to visit the service center at Toyota of Gastonia near Lincolnton for a thorough inspection.
What Fluid Is Leaking From My Car?
While clear fluid dripping from your car's cooling system is usually not a serious issue, any other color of liquid can be a sign of a big problem. Place a sheet of paper underneath the leak while the car is running, then follow this guide to see what kind of fluid is coming out:
Power steering fluid or transmission fluid are often red.
Radiator coolant or transmission fluid from an automatic transmission can show up as orange or yellow.
Antifreeze leaks usually show as green, and they can come from the hoses, water pump, or radiator.
Windshield wiper fluid is almost always blue.
Brake fluid shows up as dark brown, and it may require brake service. Old engine oil does as well.
Gear lubricant and newer engine oil will look light brown.
If the color is pink, its likely power steering fluid or transmission fluid.
Identifying the Cause of Leaking Water
Water leaking from under a car usually isn't serious, but to be safe, you'll want to take these steps to see what the issue is:
As we mentioned earlier, you'll want to inspect the color by placing a clean sheet of paper under the leak. If it's not water, bring your vehicle to Toyota of Gastonia near Charlotte as soon as possible.
A blown gasket can cause a coolant leak, and that will then cause white smoke and water vapor to come from the exhaust pipe. It results in a large amount of water caused by coolant burning with the fuel.
A coolant leak is easy to spot, as it shows up as yellow or orange. You can always check the fluid level in the coolant tank to see if you're running low due to the leak. A trip to the service center is in order.
A cracked windshield wiper fluid reservoir can also cause a leak, and if you mix water with your windshield wiper fluid, it can appear clear at first glance. You'll find the leak by the front of the car near the wheels. Water in the wiper fluid reservoir can expand and crack the plastic causing a steady leak.
If your water leak is caused by anything other than condensation from your AC system, turn to your local Toyota service center!
Visit Toyota of Gastonia in Gastonia for Service
Toyota of Gastonia is happy to help customers from Hickory and beyond identify the source of any fluid leaks. Contact us with any questions today! We're here to assist with everything from oil changes to your Toyota Camry maintenance schedule.
Learn More at Toyota of Gastonia
A water leak coming from your car usually is from condensation in the air conditioning system. When it's activated, it can cause a small amount of water to form into puddles at the rear of the engine. If you're finding water near your tailpipe, that's usually condensation from the exhaust. It will go away after…

Brake lifespan can vary depending on your specific vehicle, driving habits, and road conditions, ranging from 25,000 to 60,000 miles or even 80,000 miles, so it's essential to consult your owner's manual and take your vehicle into your Lincolnton-area service center for regularly scheduled maintenance. However, you can also pay attention to signs your car is…

Service SpecialsSchedule Service You want your Toyota Camry to continue running like new for years to come, so it's important keep in mind the Camry vehicle maintenance schedule you need to follow. You can find the correct mileage milestones in your vehicle's manual as well as with us at Toyota of Gastonia. What Type of Service…