How To Tell If You Need New Brakes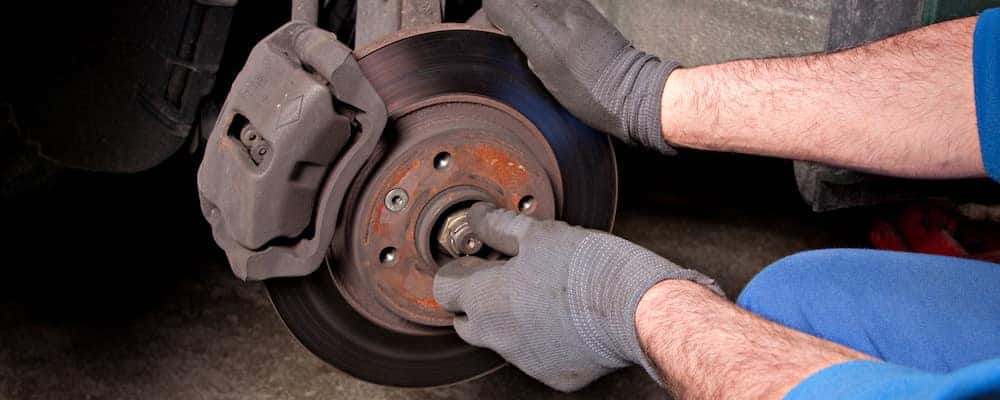 Brake lifespan can vary depending on your specific vehicle, driving habits, and road conditions, ranging from 25,000 to 60,000 miles or even 80,000 miles, so it's essential to consult your owner's manual and take your vehicle into your Lincolnton-area service center for regularly scheduled maintenance. However, you can also pay attention to signs your car is giving you that it's time for new brakes–check out our guide below, and contact the Toyota of Gastonia service department if you have any questions!
Signs Your Brakes Need Replacing
Grating Noises: If you hear squealing, squeaking, scraping, or even buzzing while you're driving, your brake pads may be worn down. Most brake pads today are designed specifically to make this awful noise when they are dangerously worn down to indicate to drivers that new ones are needed as soon as possible.
Clicking Noises: If you hear clicking when the brake pedal is pressed or released, this may mean that the components designed to hold the brake pads in place — known as the brake calipers — are loose and require replacement or repair in Toyota of Gastonia.
Vibration in the Brake Pedal: If the brake pedal shakes when you press down, these are not good vibrations. When a brake pad wears down the binding resin heats and spreads across the rotor. If the brakes overheat and it spreads unevenly, this is called "glazing," which causes the vibration and requires service soon.
Slower Braking Time: If you notice it starts taking longer and longer to come to a stop when braking, this is called "brake fade." This is the most obvious indication that your brakes are starting to wear down.
Your Car Veers to One Side: If you press the brakes and your vehicle starts to list to one side, this is usually an indication that your brake pads are wearing out unevenly. This issue will need to be addressed at a service center in order to avoid undue stress on your steering system.
Rely on Toyota of Gastonia for Service and Parts
If any of these warning signs appear while you are driving around Hickory, schedule service at Toyota of Gastonia. Be sure to also check our parts and service coupons and fuel economy tips before heading in to take advantage of a great deal!
More Service Tips From Toyota of Gastonia
A water leak coming from your car usually is from condensation in the air conditioning system. When it's activated, it can cause a small amount of water to form into puddles at the rear of the engine. If you're finding water near your tailpipe, that's usually condensation from the exhaust. It will go away after…

Brake lifespan can vary depending on your specific vehicle, driving habits, and road conditions, ranging from 25,000 to 60,000 miles or even 80,000 miles, so it's essential to consult your owner's manual and take your vehicle into your Lincolnton-area service center for regularly scheduled maintenance. However, you can also pay attention to signs your car is…

Service SpecialsSchedule Service You want your Toyota Camry to continue running like new for years to come, so it's important keep in mind the Camry vehicle maintenance schedule you need to follow. You can find the correct mileage milestones in your vehicle's manual as well as with us at Toyota of Gastonia. What Type of Service…